Melbourne's Best Poured-In-Place Rubber Installation Services

When you start a new safety surfacing project, you need to keep something in mind at all costs: not all surfaces are the same, which is why it is crucial to choose the right one according to your needs and certain factors. Based on this, you might want to consider—or not—using the poured-in-place rubber option. To begin with, are you aware of the situation of the space where you need the surface? Like its current state or condition? If not, you should start by determining if special preparation will be needed in order to work on it.
Also, we mentioned that some factors influence as well, and we want to go over them before you make a decision about this specific rubber option. Therefore, why not take the time to look a bit at the most crucial ones?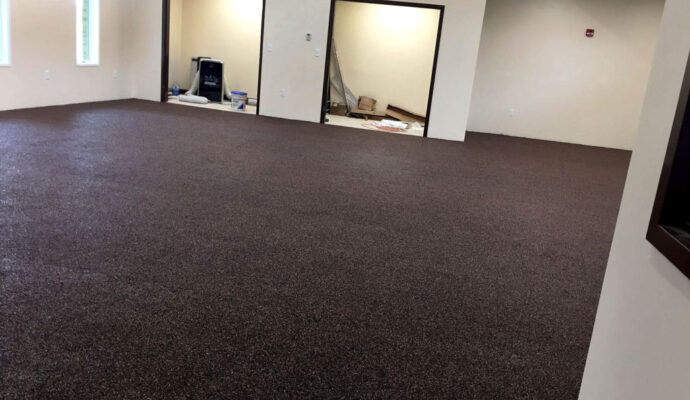 Shock absorption and support needed
When choosing a surface, determine the level or specific impact absorption you need since not all of them offer the same. In the case of poured-in-place rubber, you will have one that can be adjusted and work well where falls up to 12 feet can take place. However, you do not always need this much impact absorption. Therefore, consider this factor carefully and if you come up with a conclusion where such falls or similar accidents could take place, then this rubber surface is the best one.
The temperature changes and the location's climate.
This can affect the longevity and durability of your surface when it is either unable to handle cold temperatures or maybe cold ones. Sometimes, the issue tends to lie in how common temperature changes take place. For example, rubber tiles can deteriorate quite fast when outdoors due to how poorly they perform in areas that rain a lot.
How much you are willing to spend.
Can you afford to acquire the surface you are considering? If not, why not look for another option? Keep in mind that all prices vary and inevitably, there will be some more expensive or affordable than others. Being aware of how much you can spend on the project or service will open doors that are suitable for your needs and even preferences.
When to choose poured-in-place rubber?
---
With the previous factors in mind, we are confident you will be making well-informed decisions from now on or, at least, a bit better due to the basic knowledge about surfaces. Now, when we focus on the rubber surface at hand, we already gave you a spoiler of when to choose it: when extra support and shock absorption are required. Playgrounds and city parks are the most common spaces or areas where you will find this surface installed, and it is due to the equipment that is also placed in them.
For example, if the equipment that is disposed of for children to play can lead to falls up to 12 feet, this surface will come in handy. That being said, it does not have to be that specific nor provide extra support if you do not want to. The beauty of this surfacing option lies in how it can be adjusted due to the two layers it has instead of one: a base and a wear layer. The base layer is the part of the surface that will determine the support and shock absorption. Since it can be up to 10 inches thick, it is the main reason why it can reduce harm from such high falls.
However, this does not mean you have to make the layer so thick and this is what we refer to when we say "adjust". The initial thickness of the surface can be 5 inches and depending on the height of the equipment or your needs, you can make it thicker or not since the beauty of the surface not only lies in how thick this layer is. The second layer, the wear one, also offers another reason why you should choose it: because this layer is only meant for protection and appearance. It is only 0.5 inches thick and protects the base layer from any damage and all types of external sources. Also, you get the final design and look depending on the color and pattern you choose for it.
Most unitary layers are clearly by themselves, but this poured-in-place rubber, by having two layers instead of one, is able to offer more longevity and durability. Now, how does this answer the question of when to choose it? If you want the extra support but also a surface that might require some extra maintenance but will last for many years in any space you decide to install, you should definitely go for it due to all the reasons and facts we have exposed so far.
How do we help with this surface?
---
In every single need and project that includes it. Our company Melbourne Safety Surfacing will provide you with all the assistance needed for its installation or in case you have to repair or provide maintenance to an existing one in your space and location. We are not only limited to providing the materials for the surface and its installation, which is why you can rest assured we will be there for you no matter what.
You must keep in mind that the installation and special services required with this surface should not be handled by people who do not have enough knowledge about it? Why? Because you are most likely going to end with a poor surface and waste your time, or with professionals who only provide an average result that still affects your surface's longevity and performance. When you rely on us, we can guarantee three main things for this surfacing option: great materials since we only use TPV rubber for it—one of the best rubber options in the market—, the best installation due to our well-trained and experienced professionals, and affordable prices that will not limit you from getting the surface or access any help you need with it. Therefore, make sure to contact us at Melbourne Safety Surfacing and allow our professionals to assist you in any possible way with this rubber option.
Below is our list of additional services: