Melbourne's Best Bonded Rubber Mulch Installation Services

If you want to imitate the look of traditional wood mulch, you should definitely consider the installation of bonded rubber mulch for your space. But, is it the only reason why you should go for this surface instead of others available in terms of how safe they are? Not quite. Bonded rubber mulch has many characteristics you should love and although its appearance is a great perk that most people consider when choosing it, you must think about the others first.
Like its impact absorption properties, the support it offers, how expensive or not it is, and if it is a high maintenance surface. Of course, there are many others and we could continue mentioning them. However, if you are trying to determine where you should start, those factors are definitely it.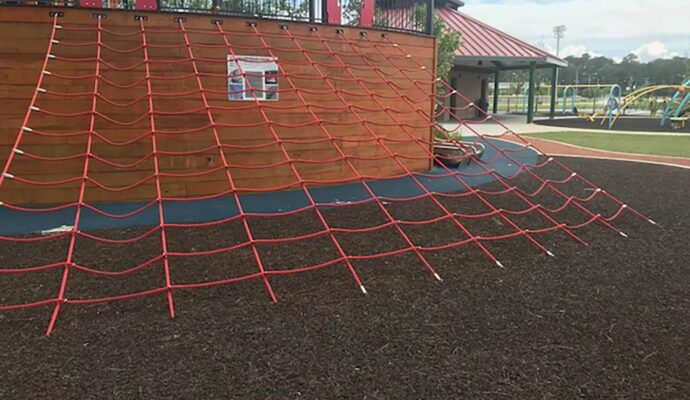 That being said, let's give you a hand with them and go over each one:
It does not require high maintenance. Instead, it is a very low maintenance surface that despite its look and system can be maintained with only a few cleanings every month or even more time.

You do not have to worry about the dangerous particles or pieces of wood mulch that usually get into people's eyes since this rubber option will stick together.

Its support and shock absorption are above the average and falls up to 8 feet or a bit more can be reduced when it comes to the harm.

It is not expensive but rather affordable, which is why it is popular as well in Melbourne.

You can use it in every outdoor space you have in mind and obtain the same results and performance.
Now that this is clear, we also want to point out that it is not that simple to choose this surface or know if it is a good fit for your space. You have to consider several factors when choosing your safety surfacing option and those will influence quite a lot—or not—in its durability, longevity, and performance.
When it comes to bonded rubber mulch, keep in mind it may not work properly with spaces or areas where temperature changes are extreme or too frequent. Surfaces can wear out due to the specific temperature or climate conditions they are exposed to and you must find a balance to make sure it is able to stand it and last for all the time you need it. Also, you must determine if it offers the shock absorption properties you need or if another surface could be more suitable for it.
For all this, our team at Melbourne Safety Surfacing can lend you a hand without problems and guarantee you are able to obtain the desired results when choosing this rubber surface or even help you in finding another if you are not convinced. However, we are confident you will love it and thanks to the special service we offer, we make sure that it can stand certain conditions and temperatures that are the only limitation for its installation most of the time. Therefore, rely on us for this and anything else related to the rubber mulch.
Why choose it above other rubber surfaces
---
If you ask us if it is a surface that can exceed all your expectations, the actual answer would be no. Not all safety surfacing options are the same and you need to choose based on your needs but also preferences—but keep the first ones in mind at all times. Therefore, if one surface you consider does not provide the right shock absorption level you are looking for—as an example—, there is no way that surface is suitable for your space.
However, when it comes to bonded rubber mulch, you can expect it to exceed them when it comes to looking or aesthetics and how well it performs when it is installed in a space that can take all its benefits and introduce them to you. It is soft, has a great design that is just like wood mulch, and you will have support and shock absorption needed for most spaces, be it outdoors or indoors. But if you are looking for an extreme surface with extra shock absorption, reconsider your options and ideas. Now, we are here to tell you why you should choose it and this is summarized in 3 points: its look, longevity, and performance.
It can last for over 15 years without issues unlike most rubber surfaces in the market or made with almost the same types of materials. When it comes to its looks, it is clear that it is one of the favorites when you look at all the options that look similar in spaces and places but are not on this surface in specific. Finally, it will cover all your needs as long as you are well-informed about them.
At Melbourne Safety Surfacing, we will help you through the entire process and make sure you are able to make a good decision based on all the factors that truly matter. We do not want you to consider bonded rubber mulch just because we recommend it since several aspects will determine if you go for it or not as we have mentioned so many times. That being said, can you actually trust us for this?
Our company and professionals have been in businesses for over a decade and we promise you that all of them are able to handle the installation, repair, or maintenance of the surface. Most people believe that we can only provide the materials and surface itself, and handle the installations without more solutions. However, if you are more interested in getting assistance for your already existing surface of this type, you can also count on us.
How to contact us
---
All it takes is a call, email, or visit to our offices. Our team is available in Melbourne but also throughout the entire state of Florida. We are not limited to only this city or large ones since you can also reach out to us for this safe surface if you are in a town or designated area.
Below is our list of additional services: