Best Bonded Rubber Installation Services in Melbourne, FL

When you research a bit about bonded rubber, you will discover there are more options called quite similar to it but, are they the same? To begin with, you must know that not because a surface is made of rubber and others as well, that means they are basically the same type. After all, there are many types of rubber as well and some of them are quite low-quality while others the complete opposite. To make it simple to understand, let's just keep it as: not all rubber surfaces will offer the same support, look or shock absorption properties.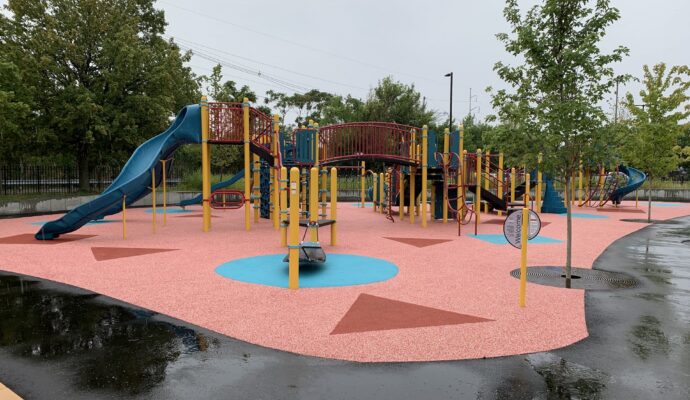 Now, when we think about bonded rubber, in particular, it has similitudes to wood mulch and it is one of the main reasons many people in Melbourne and Florida decide to use it as their safe surface. Also, the rubber that is commonly used for its fabrication is 100% recycled and of good quality, unless you end up with a company or supplier that uses a basic type of material. The composition of the surface is simple to understand and with the idea of how similar it can be to wood mulch; you already have the basics about this. Now, what makes it a good option?
Since it is a single-layer surface, you can expect it to require very low maintenance and be quite simple to install in any outdoor or indoor space. It dries quicker than others and drains well, which makes it perfect for spaces and areas where rain and humidity are an issue. You can have a safe surface without worrying too much about its maintenance or, to be more specific, without having to invest time and resources in it. Finally, this rubber option is not expensive but rather affordable among all the options you will have in the market and since it also dries quicker than others, you will have a functional and safe surface in a matter of hours or 2 days at most.
But how do we know so much about this? Because our company, Melbourne Safety Surfacing, offers great results and the installation of this surface without issues. We are capable of assisting you in the entire process and project but also guarantee you handle other problems and needs, like having to perform some repairs or maybe special maintenance to the surface. Just let us know and we will start working on it. However, before you make a decision about the surface, shouldn't you know a thing or two about it? Absolutely.
When is bonded rubber the right surface for you?
---
As we previously mentioned, you can expect surfaces to be different in every single aspect. When they are similar, you can consider that they share only a few elements. Therefore, if you need to consider certain factors at the moment of choosing one and this applies to this rubber surface as well. First, the temperature and climate in the area or city you are located matter to determine how long the surface will last and if it will perform properly.
Bonded rubber is an option that thanks to its porosity does not really have problems with humidity or places where cold weather and temperatures are common, but frequent changes can affect its longevity either way. Second, you need to consider how much shock absorption it offers and if it is suitable for the space you are working with. For example, if you need the surface for a playground where the equipment for kids to play can lead to falls up to 12+ feet, then it is not the best option.
However, this rubber surface is a great option for support and impact absorption overall which is why we highly recommend it in most cases except for a few considerations or preferences. Finally, the size of the space does not really matter most of the time, but installing it in larger ones can make the processes easier because there is more area to work with. It sounds ironic but, in some cases, and when it comes to safety surfacing overall, having larger spaces to work with is more comfortable.
Now, where does this leave you regarding the question of choosing the rubber surface or not? In a point where you will use it mostly for pool areas, playgrounds that require regular shock absorption or a good one, and any space you consider is a fit according to your needs and the surface's properties. Keep in mind that the decision—despite all the factors that could influence besides the ones above—lies in your preferences as well. You can choose to use bonded rubber just because you feel it is the one for you and there is nothing wrong with it since we guarantee you the surface does not disappoint 99% of the time, especially when you have our professional's assistance for its installation or any other service.
Is this surface expensive?
---
Not quite. Instead, it is one of the most affordable ones as we mentioned and you will find it accessible regardless of your budget. Now, the final cost tends to vary depending on the materials that were used for its manufacturing. Since we use only TPV rubber—one of the best rubber types in the market—for it, our prices range from $6 to $13 with this surface but keep in mind that the installation is included as well. We understand that everyone has a budget and this could be another factor to keep in mind when you consider a project in this field.
However, we want to make it possible for you to have the safe surface you need which is why we encourage you to contact us at Melbourne Safety Surfacing and rely on us for anything. Also, we might be located in Melbourne and throughout the entire state but do not think our prices will vary just because of this. Instead, expect the same ones regardless of your location and the quality of our services will not decay regardless of where we need to perform the installation, repair, or maintenance of this surface.
Below is our list of additional services: